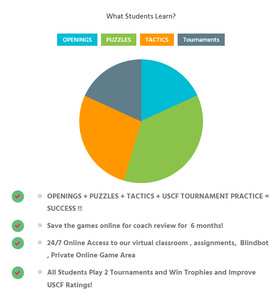 STUDENTS TAKING LESSONS AT CHESSTRONICS ARE ACHIEVING TOP RANKINGS! AND INCREASING THEIR USCF RATING TO 1500+
ADVANCE YOUR CHESS LEARNING and IMPROVE YOUR USCF RATING BY JOINING CHESSTRONICS WEEKLY CHESS CLASSES!  


PRICES ARE FOR ALL THREE MONTHS SUMMER -SEMESTER -  It may be promoted if you join in between semester. All Students play 2 tournaments Free to practice and Win Trophies or Promoted to Next Level! 

CUMMING LOCATION : 1675 Peachtree Parkway Suite#180, Cumming GA - 30041 
ARE YOU A NEW STUDENT ?  
SIGNUP FOR FREE - EVALUATION CLASS -> SIGNUP

MEET OUR GEORGIA 1ST in 2nd GRADE LEVEL KANISHK MAHESH! 



Pre-Register Students list click here