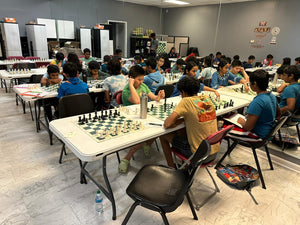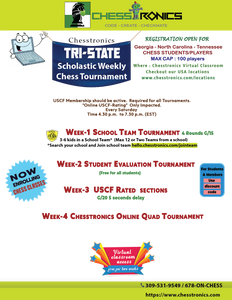 Every Wednesday! 
Wednesday nights with a time control of 30 minutes with a 5-second increment
(G30+5) The first 40 that sign up will be able to play. Game starts at 8:00 PM USCF Membership is required. Please arrive at 7:45 PM if you need assistance.
TO PLAY Please register in advance before 7 PM. This is the only
method to guarantee your spot.
On-site registrations are allowed, provided slots are available. Please
arrive at 7:45 PM to register on-site.  

Note: Players can wait at Lobby but  not allowed inside until 8:00 p.m. due to weekly chess class. 
4th Saturday Online USCF Rated - WEEK4-QUAD  - $12.00 Entry Fee (Saturday 4:30 to 7:00 p.m) 

Introducing  New Online School Team Tournament Happens every week1 Saturday from August 2022! 
MONITORING RULES: 
Caution : Our AI Chess Engine detects some players and we may ask players to share screen while playing their game. If we find suspicious using any assistance or software assistance , the player USCF Rating will be impacted as Zero and may be  suspended playing any online rated tournament. This is part of the USCF Online Rules our TDs have to comply.    
CHESSTRONICS_ID for the first time players please type N/A in chesstronics_id field we will send the login credentials to our online chesstronics platform
Please check your name in below list if you already registered ->