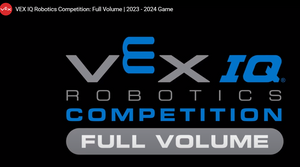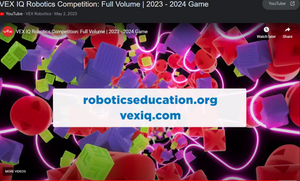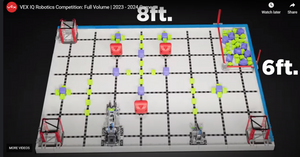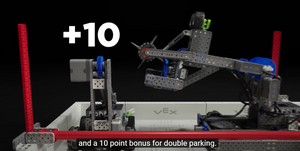 VEX IQ GAME CHALLENGE FOR 2023-24 is Released Watch the VIDEO LINK 
Note: Before you pay $25.00 Non-Refundable registration Fee for advance vex iq team, please review this eligibility to join Advance VEX IQ Team. The advance vex iq team member typically spends about $875.00 and it may go upto $1500.00+ if the team got selected in County Level, State level, or World Level competitions that will be held at Kentucky or Texas . (Our Last year VEX IQ Elementary team got scholarship of $3,500 from various Technology Sponsors).

The Trial Class will be there for all students who paid registration fee $25.00 .

 
Eligibility to Join Advance VEX IQ 2023-24 Competition Team:
Students from 3rd grade  to 8th grade are eligible - (*Some 2nd Graders are eligible). 
Students Must have completed Chesstronics "Basic Vex IQ Program"  that we conduct periodically in school year and during  summer camp or  weekly classes. (OR) 
Participated in prior year VEx IQ competitions from schools or private teams. 
At least 3rd grade to join in the elementary team or at least 6th grade to join in the Middle school team . ( High school students are not eligible. ) 
Ready to join in Chesstronics VEX IQ Team of 4 to 5 kids. 
Participants must be ready to share Team Fee, Competition Fee, Robotics Fee ($280.00 Per Team)  in addition to Individual fee of  $125/month.
Participants will have access to Chesstronics VEX IQ Lab 24/7 , Field Access, Game Elements for FULL VOLUME. 
Participants who are in Chesstronics Team cannot leave  in between and join other school teams. 
Most of the classes are in-person make up class may not be available.. They have to stay late and catchup the class if missed. 
Some coding sessions may be held in online. 
The coach available classes will be mostly weekly once on Sunday evening at 4.30 p.m. 
The self-practice sessions will be flexible hours based on team decides. The practice session will start after they attend first competition. 
After registration fee, a zoom invite will be sent to all parents to go through our program orientation $125.00 discount will be given if all 7 months fee is paid.  Note:  Monthly  payment option is NOT available. 
The learning goal of the class is for 2023-24 vex iq Robot building skill and driving skill for the robot.  The classes are in hybrid model both in person and online. Some sessions are in-person and the student have to follow the
safety guidelines
. All the students end goal is to participate at least one competition provided by Vex IQ
Robot Events and Competition program
 . All students are required to watch this 6 minutes above video to understand the VIDEO LINK.   This Robotics classes falls under services and once after purchased not refundable.  Checkout our
refund policy
.  
Each Team member gets Team T-Shirt, Chesstronics 24/7 Lab Access, Field Access, Game elements for 2023-24.  

SYLLABUS & ELIGIBILITY  -> LINK

PRE-REGISTERED PARTICIPANTS LINK (Check your Name after registration)